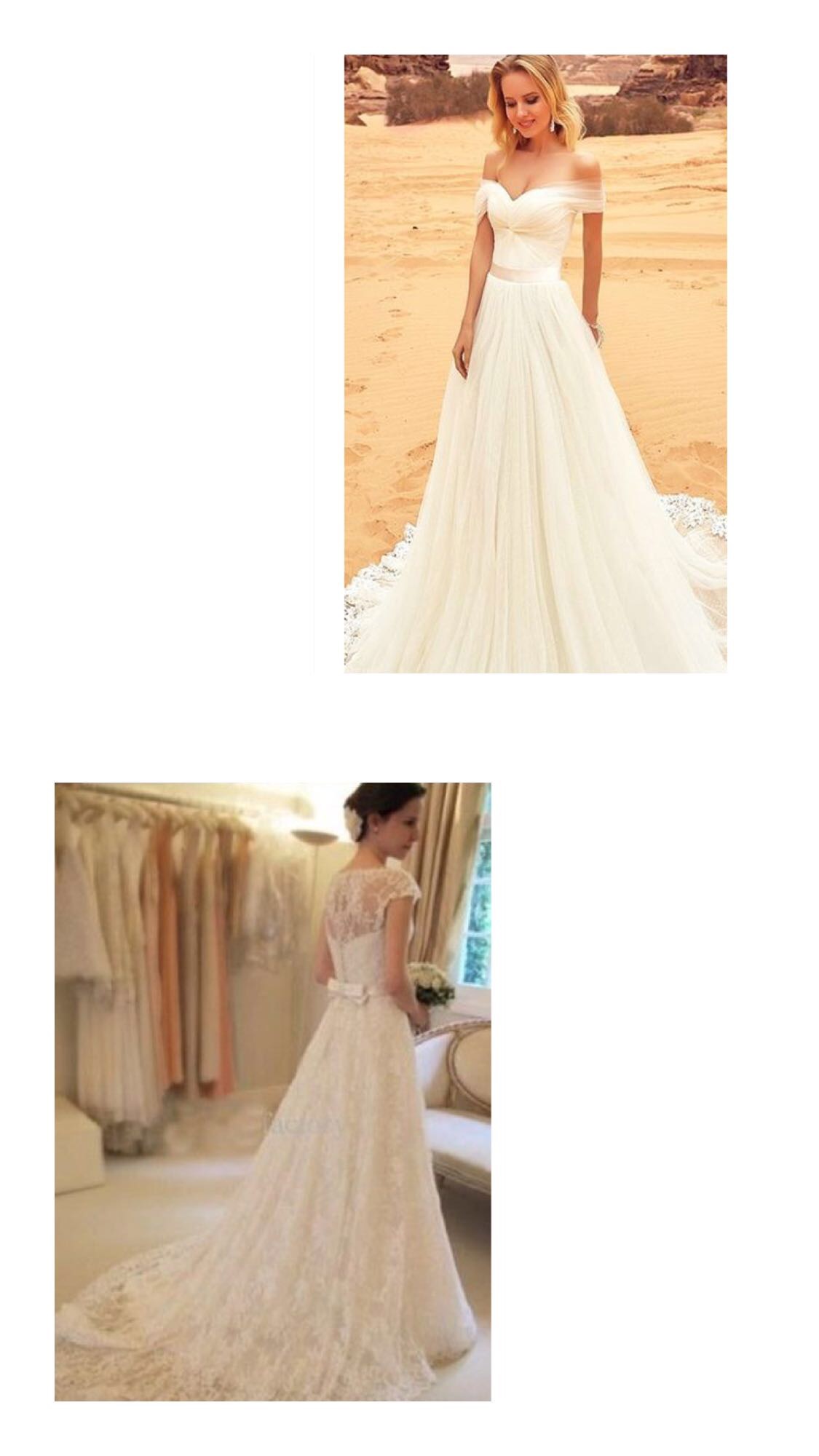 I realized I wanted less of that bottom picture that I had been dreaming about my whole life and more of the top picture, an off the shoulder, A-Line dress that shows off my shoulders and collarbone. I looked and looked online to find the perfect dress (at 2 am naturally) and then finally found a picture of exactly what I thought I was looking for...
This is the dress! I thought...
I fell in love with this dress and was sure it was the one for me. Ok so why didn't I buy it? Well for starters it's an Israeli brand where you can only buy the dress in store in Israel, so that would be a chunk of my wedding budget I wasn't anticipating spending. When I showed it to people here they explained that often dress designers in those countries make wedding dresses like lingerie and the material is very see through and essentially a corset with a skirt. Although, I did not want lace up to my neck any longer, I knew I did not want to wear lingerie either.
So what did I do?
I had an appointment to go to Kleinfeld's with my mother, matron of honor, and maid of honor back in NYC. After many thousands of episodes of Say Yes to the Dress I figured, hey if they can help everyone else, they can help me. BUT I know that in these high pressure situations (where you only have an hour and a half and a three dress try on maximum) that I would feel so much pressure. So I went into a store in LA before my trip home in the middle of a weekday, with all the time in the world to figure out if that truly was the dress I was looking for. My plan was to try on dresses to confirm that I liked the silhouette I had envisioned and then peace out.
It did not go as planned. I tried on two dresses and felt like meh? I wear fancy clothes all the time and I honestly felt like I was just wearing another fancy dress, but it white. The first dress however... the third dress I immediately fell in love with. My whole plan went out the window and the "when you know you know" feeling washed over me. I facetimed my mom and my future mother-in-law and showed them the dress through my blubbering tears and it was confirmed that this was the dress to me. My mother visited me in LA a few weeks later and she confirmed it was the right one and we said yes to the dress together.
So what do you think? What kind of dress do you think I chose?
Let me know in the comments below.
For more on picking your perfect dress and advice on how to find the one for you visit: www.WeddingDressesGuide.com